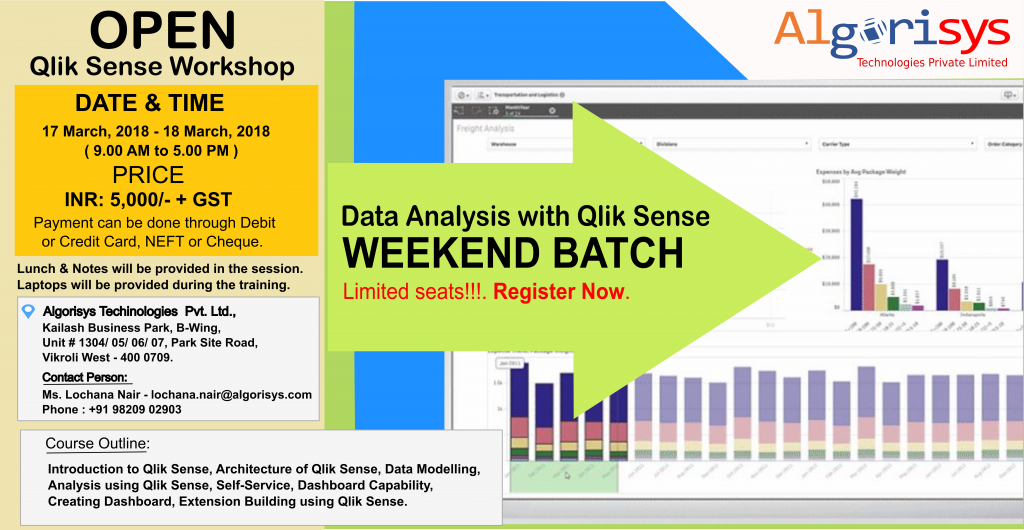 What is Qlik Sense?
Qlik Sense® is Qlik's next-generation application for self-service oriented visual analytics, offering unique and powerful data visualization, exploration,and collaboration capabilities for all types of users.
What you will learn?
Make informed data-driven decisions and share these decisions using Qlik storytelling features. Go further by creating powerful, clean, cutting-edge visualizations for others. Learn the best ways to help business users explore information and gain critical insights on multiple devices.
Manage and consolidate data from different tables and sources and integrate them into a clean dashboard interface. Includes data modelling, functions, data loading and application structure.
Pre-requisite
Basic understanding of SQL
Knowledge of Basic Excel (Optional)
Hands-on covered in this session
Day -1:
Introduction to Qlik Sense
Architecture of Qlik Sense
Connecting to Multiple Datasource (Workshop)
Data Modelling queries (Workshop)
Day – 2
Analysis using Self-service QlikSense (Workshop)
Dashboard Capability
Creating Dashboard (Workshop
Understanding Extensions in Qlik Sense
What you will gain from this workshop?
This workshop is suitable for those who are looking for getting into an entry level Qlik Sense Developer or Visualization designer job in any industry and also will set the right foundation for advanced Qlik trainings.